ASIC miners have become the leading cryptocurrency mining tools with high hashrates and power consumption ratios. This hardware concentrates many ASIC chips on a printed circuit board. Its name is "Hashboard." Depending on the model, a hashboard will contain dozens of ASIC chips. They are similar to those of a computer. A mining machine typically has three hashboards and dozens or hundreds of ASICs. Depending on the miner's model, the ASIC chip will also be different, and many repairers will doubt which chip model to use. We will take Bitmain's Antminer 17 series as an example to introduce some issues related to ASIC chip classification.
Why you need replacement BM1397 chips
As you may know, the chip will generate a lot of heat during its operation. With long-term and uninterrupted operations, the temperature will increase. Excessive temperature will quickly lead to chip failure or damage. This is why Bitmain opted for tin between heatsinks and chips in the Antminer 17 series. However, this has brought a new set of drawbacks that weigh heavily on balance. In particular, the temperature differential of your cooling and the chip causes crumbling in the tin, which will create the formation of small balls of tin that will get lodged in the legs of your chips to turn into shorts and potentially do permanent damage.
When people order spare parts, they may not correctly distinguish the corresponding ASIC chip models, and the inventory of some models is already minimal. You may have noticed that a sticker on the back of your hashboards will tell you which BM1397 chip model is being used. Indeed, several models have been designed, which can be somewhat confusing. However, the market can be out of stock for a given model at anytime. Therefore, sometimes we have to use other ASIC revisions instead of the one currently used on the hashboard you are looking to fix. Here is a comparison made by the D-Central team to help you better understand which chips can meet your repair needs.
How to choose your BM1397 chips
After testing and verifying thousands of hashboards, we have found that different types of ASIC chips can replace the original chips of your hashboard. For example, the Antminer T17, S17 and S17 Pro can share all four kinds of ASIC BM1397 chips. Next, we tested the Antminer T17+ and S17+ hashboards, respectively. We have found that these hashboards can mix the following two types of ASIC chips: BM1397AG and BM1397AI. This is very useful when the ASIC chips of a specific model are out of stock! But what about the explanations behind each ASIC chip?
BM1397AD
This type of chip is the original model of Bitmain's BM1397 design. It is strictly found on the Antminer T17, Antminer S17 and Antminer S17 Pro. The first cards with this type of chip won't mention the chip type, so if you can't see the information on your hashboard, this is probably one of the very first BM1397AD!
Buy new BM1397AD chips here!
Buy recycled BM1397AD chips here!
BM1397AG
The introduction of this revision allows greater resilience at high temperatures. This is what allowed the T17+ and S17+ variants to make their debut. The BM1397AG chip is also found on the T17, S17 and S17 Pro models. Since it is located on many hashboards and includes all models, the BM1397AG is an asset in an ASIC repairer's inventory.
Buy recycled BM1397AG chips here!
BM1397AH
This review addresses some of the issues encountered with previous revisions on the T17, S17, and S17 Pro. It is not found on other Antminer 17 series models. It is unknown what fix this revision made, but BM1397AH hashboards tend to have stable hashrate even when the voltage is insufficient.
Buy recycled BM1397AH chips here!
BM1397AI
The latest overhaul, the BM1397AI, is the ASIC repairer's ultimate weapon. It fits all 17 series models (except T17e and S17e). The BM1397AI is found on the T17, S17, S17 Pro, T17+ and S17+. It stands out for its signal clarity, backward compatibility and significantly increased stability. In addition, we have noticed better performance for hashboards with this type of chip, allowing great flexibility in configurations.
Buy recycled BM1397AI chips here!
What about BIN and hashboard levels?
You will find a sticker on the hashboards that designates the BIN number of the chips installed on this board. The theory goes that you should only use BIN1 chips on a BIN1 hashboard, although our results show you can easily match different BINs for up to 5 chips on a board without issue. BINs are the other stems of BM1397 chips. There are no additional BM1397AD chips produced, for example. They all have the same design, the Y09BM1397310.
What happens, though, is that in the manufacture of chips, there are imperfections and those imperfections at the microscopic level ripple through to a chip's power, i.e., its efficiency. Some chips of better power can then be configured differently at the software level. The only chips that differ are the different revisions, such as BM1397AG or Y09BM1397610. Then there is also the "level" of the hashboard. Similarly, the level refers to the general stress that the hashboard must be able to withstand. So you can apply a configuration to the chips that won't put too much strain on the hashboard and its chips in general.
If you recycle chips, try to use hashboards with a similar pattern and level; this is designated by the sticker "L1, L2, …". We find better results in chip mixing if you use the chips on a compatible or later chip design. For example, you want to install AI, AH or AG chips on an AG hashboard. The logic is AI > AH > AG > AF > AD. We have in this table reproduced all the EEPROMs and the bins corresponding to the manufacturer. This table should give you a complete understanding of the manufacturer's intended differences between the different BINs and levels. You can also use our VNish firmware build to see a full chip map and see the optimized performance of each of your hashboards.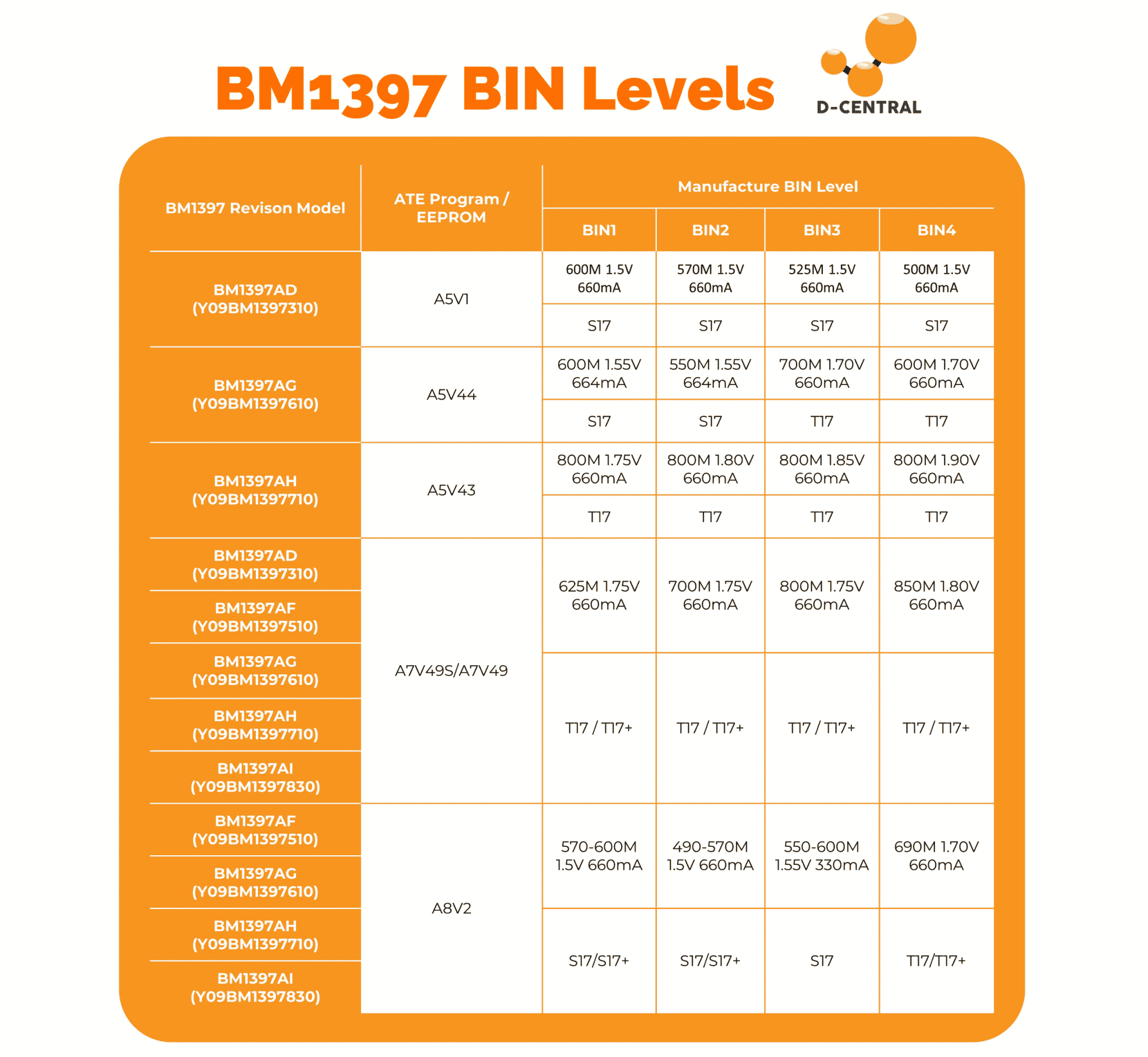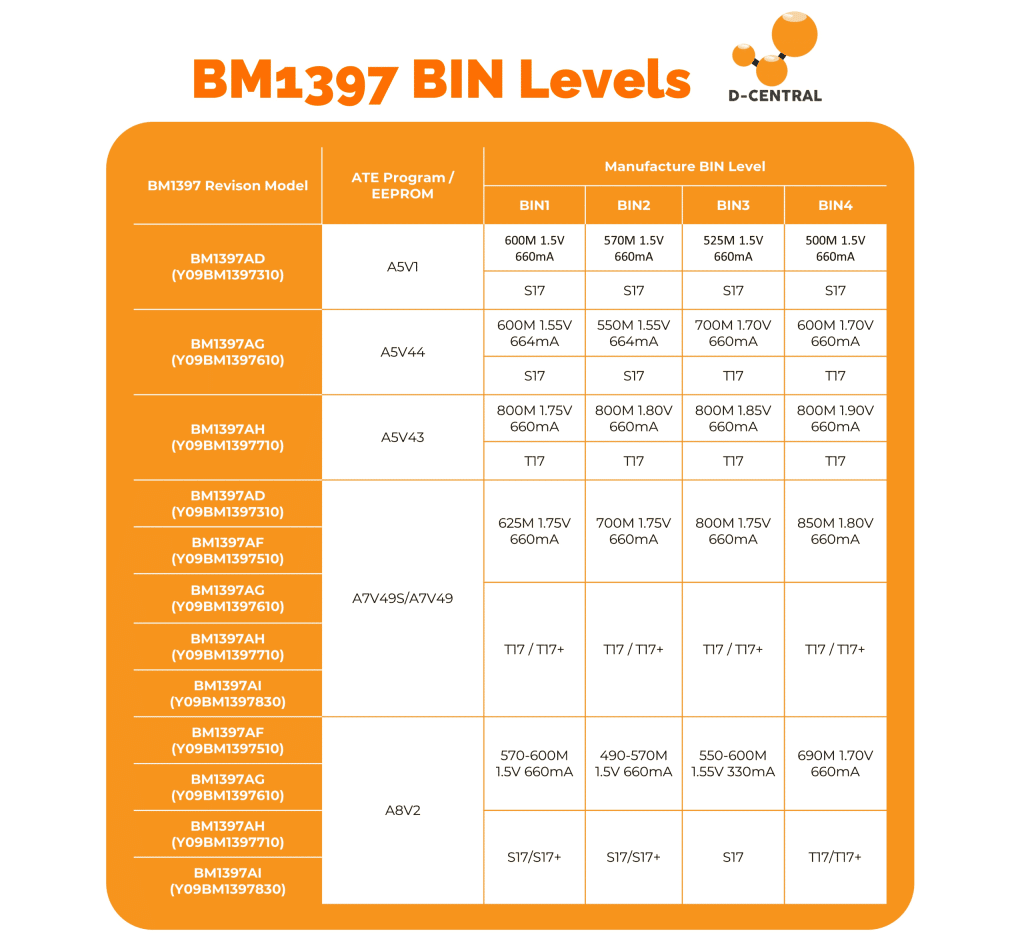 You can now fix your 17 Series hashboards
You now have more explicit information than what the manufacturers give us. Our article is based on our experience, having worked on several thousand functional and non-functional hashboards. D-Central Technologies and D-Central Labs are companies operating in the mining world, producing several pieces of research related to Bitcoin mining. To continue to see more of our research results, visit our blog section and subscribe to the weekly.