Description
Our comprehensive redesign and upgrade of the Antminer T17 eliminates the common issue of faulty hashboards due to subpar heatsinks found in stock 17 series ASICs. The upgraded miner features a monolithic all-in-one heatsink inspired by Bitmain's 19 series hashboard design, such as the S19J Pro. This enhanced durability ensures your machine arrives in one piece and operates for years, with optimized cooling suitable for immersion in cooling systems.
Experience even greater efficiency by playing around with the settings on custom firmware such as VNish or BraiinsOS. Customizing your Antminer T17 allows you to unlock its full potential, achieving close efficiency to the T19 while maintaining improved resilience. With a power efficiency of approximately 45 J/TH, our upgraded miner operates at 40 watts per TH/s at 38-40 TH/s, just shy of the Antminer T19's 38W/THs.
D-Central's refurbished Antminer T17 is backed by a 3-month warranty, guaranteeing you a superior mining experience. Elevate your mining game with our reimagined Antminer T17 and enjoy the reliability and profitability of this upgraded marvel. Order now and harness the power of next-level mining technology.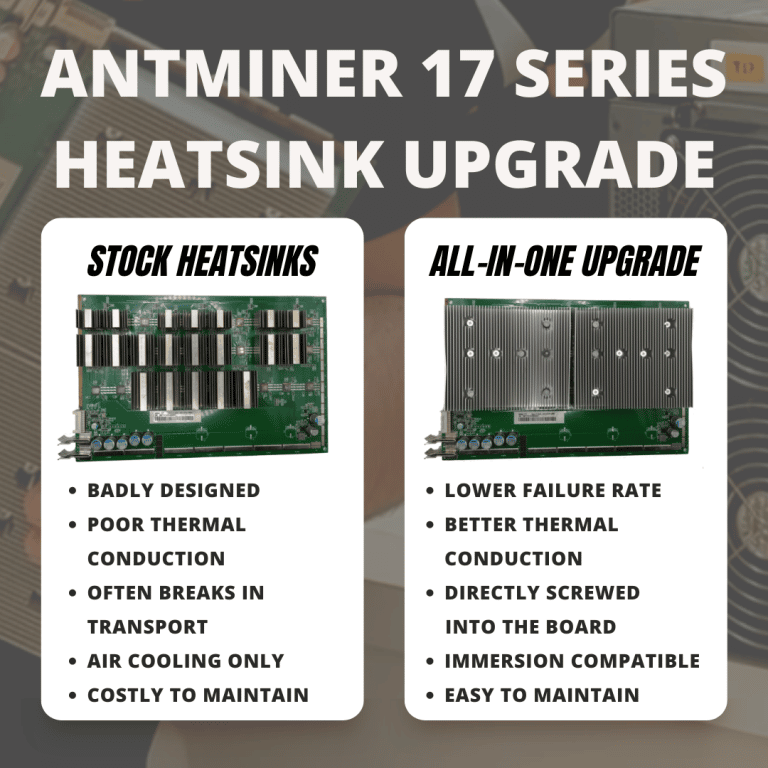 | | |
| --- | --- |
| Manufacturer | Bitmain |
| Model | Antminer T17 |
| Hashrate | 40Th/s (±5%) |
| Release | |
| Size | 178x 296 x 298mm |
| Weight | 9500g |
| Noise level | 75db |
| Fan(s) | 4 |
| Power | |
| Voltage | 12V |
| Interface | Ethernet |
| Memory | N/A |
| Temperature | 5 – 40 °C |
| Humidity | 5 – 95 % |
Please ensure your farm uses proper cooling, dust filter, and AC 10A cable to meet the requirements of proper operating conditions. Humidity <75%, AC voltage 210 ~ 240V, power supply AC input current 10A, dust <0.5 Mg / m3.
This lot is reconditioned by D-Central. These are usually broken machines that have been repaired by D-Central and rigorously tested before being sold. This batch will ship based on first paid, first shipped orders for which D-Central has received full payment. We recommend that you know your local customs clearance policies and prepare for them in advance to avoid any customs clearance delays or unforeseen costs.
We offer a 60-day warranty on the purchase of all our refurbished equipment. In addition, our guarantee provides you free repair of your machine within a priority period to make you lose as little mining as possible. Note that the security seals must be intact and that you must not have modified your machine. Overclocking and custom firmware will be discredited from the warranty.
Shipping charges, customs fees, and taxes are not included in the retail price shown above.
This is a final sale. Once the order has been placed, a request for cancellation of the order, reimbursement of part of the amount ordered, or modification of the item (s) ordered into different items or different lots will not be heard. Therefore, we advise you to make any purchase only after careful consideration.
To get a quick response from our team for any order or sales inquiries, please submit a request in our ticketing system here.
NOTE: The price of cryptocurrency mining machines should be adjusted frequently based on variables such as the exchange rate of Bitcoin, the difficulty of Bitcoin, or the expected increase in difficulty. Refund requests based on price changes will NOT be honoured.
By making a purchase from this website you agree to the above points and our return and refund policy.